< back to other Newsroom articles

By Stanley Hurwitz
October 2007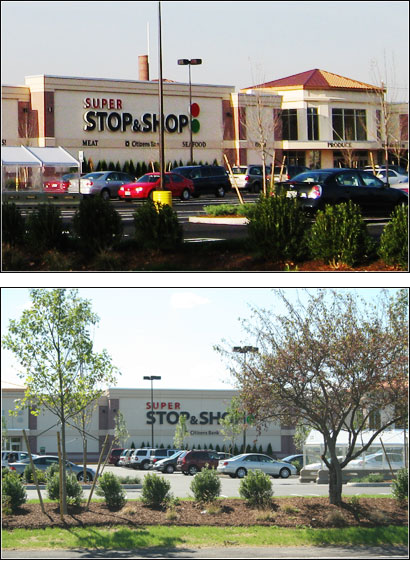 Dickinson Development Corp. Completes New Stop & Shop
in Reading
Adjacent to Dickinson's Walkers Brook Crossing
QUINCY, MASS. (October 2007) — Dickinson Development Corp. of Quincy recently completed its third retail project in Reading (Mass.) in four years.
A new 69,000 square-foot Stop & Shop opened in September, occupying a five-acre parcel on Walkers Brook Drive, across from Dickinson's highly successful 480,000 square-foot, $90 million Crossing at Walkers Brook retail center just off Route 95 / 128 – home to Jordan's Furniture, Home Depot, Staples, Linens 'N' Things, and seven other name retailers and restaurants.
Dickinson's partners in the project were Pinnacle Partners of Braintree and Morris & Morse Co. of Boston, MA. General Contractor Pinncon LLC of Braintree began the supermarket's site work last December. The site had been home for decades to the former Boston Stove Co. and more recently housed several warehousing tenants.
"The success of Walkers Brook is having a 'snowball' effect on an area once seen as a no man's land because the predominant use was a closed dump and older industrial buildings," observed Mark Dickinson, President of Dickinson Development. The project has created hundreds of new jobs and will provide a permanent stream of real estate taxes to Reading and income tax revenue to the Commonwealth. "Just as important," says Dickinson, "we transformed a landfill into an attractive, productive destination retail site."
Founded in 1980, Dickinson Development Corporation has developed over three million square feet of office, retail and industrial space and hotels in New England and Florida. The company is seeking similar development opportunities in southern New England.
For more information, contact Mark Dickinson: 617-770-1955.
Stanley Hurwitz is a Public Relations and Marketing Consultant based in Stoughton, Massachusetts.
Contact: stanhurw@comcast.net
ABOUT DICKINSON DEVELOPMENT CORP.
Founded in 1980, Dickinson Development is a full-service commercial real estate development and project management consulting firm based in Quincy, Mass.