< back to other Newsroom articles

By Stanley Hurwitz
September 2005
Taryn Warren Is Named Division Vice President
Dickinson Expands Development Services Division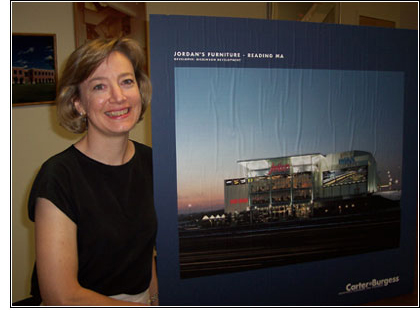 QUINCY, MASS. — Commercial real estate industry veteran Taryn Warren has been named Vice President of the newly-expanded Development Services division of Dickinson Development Corp., a Quincy, Mass.-based commercial development and project management consulting firm. The announcement was made by company President Mark Dickinson.
Now in its 25th year, Dickinson Development has successfully developed over three million square feet of property in New England and Florida, including office, retail, hotels, restaurants and industrial space for many well-known, blue-ribbon clients.
Warren says the Development Consulting division is a 'one-stop shop' for projects from $2 million to $100 million. Among services provided are: Consultation on site selection, permitting and zoning; selection and management of architects, engineers and other professionals; management of the due diligence process and legal issues; securing financing as required; selection, coordination and supervision of the general contractor and construction consultants; strategic planning and consulting on political and neighborhood issues; and marketing, including leasing or sale negotiations of the completed project.
Warren notes, "As an owner-developer, we have a unique perspective on what makes a project successful. We have fine-tuned the process, and use our experience and expertise to save clients time, headaches and money. We have a proven track record of bringing projects in on time and on budget."
In the last two years, Taryn Warren had project management responsibilities for Dickinson's $90 million, 33.5 acre specialty retail center – The Crossing at Walkers Brook – in Reading, Mass., delivering built-to-suit stores for The Home Depot and Jordan's Furniture, and negotiating leases for eight other retailers, including Chili's, Staples, Linens 'n Things, Bear Rock Café, Starbucks, Bank of America, The Paper Store, and Roman's Macaroni Grill.
A graduate of the University of Virginia, Warren has managed Dickinson Development construction projects valued at over $120 million in New England and Florida. She has served as Asset Manager and Real Estate Manager for National Amusements, where she managed development and disposition of commercial parcels. She has held development positions with The Richmond Co. of Peabody, Mass., and K.S. Sweet Associates in Princeton, NJ, where she handled marketing, operation and permitting of the Princeton Forrestal Center, a mixed-sue project consisting of four million square feet owned by Princeton University.
For more information on Dickinson's Development Services, contact Taryn Warren or Mark Dickinson at 617-770-1955, or email to ddc@dickinsondev.com. The company website is www.dickinsondev.com.