< back to other Newsroom articles

By Stanley Hurwitz
August 2006
Perseverance, Experience, Intelligence Bring $300 Million Worth of Contruction
From Vision to Reality
Project Manager Ed Shaw ...
Download the PDF { 169 kb }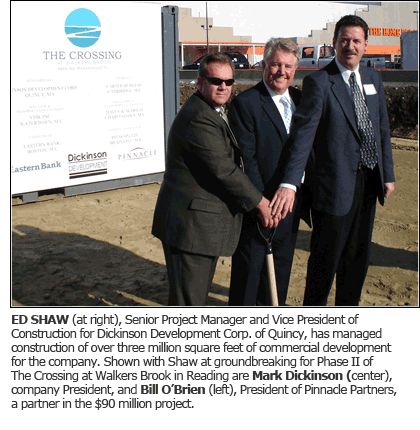 QUINCY, MASS. (August 2006) — His job is similar to an air traffic controller: Watching all the moving parts without losing sight of the big picture.
There's a chance that if you've worked, shopped or eaten in a building in Greater Boston, Ed Shaw may have helped bring that structure from concept to completion.
Over the past 21 years, as Senior Project Manager and Vice President of Construction for Dickinson Development, a full-service commercial real estate development company based in Quincy, Shaw was instrumental in bringing many of company President Mark Dickinson's visions to reality. Shaw has managed construction of over 3 million square feet of commercial space developed by Dickinson, valued at over $300 million, in New England and Florida.
"Some projects take as little as 18 months from initial due diligence to ribbon-cutting," says Shaw. "With a more complex project -- with myriad permitting, zoning, abutter and environmental issues -- a project can take 5-7 years."
As Project Manager, Shaw is often the first one Mark Dickinson turns to as a sounding board. Does the project make sense? Is it feasible? What obstacles are there and can we overcome them? Do the budget and timeline make sense, even with all the contingencies? Have we considered all the contingencies?
Shaw says the concerns are the same whether it's ground-up construction (such as a Shaw's Supermarket in Quincy), a redevelopment (like the recycling of the former Willard School in Quincy into a first-class office building), or construction on behalf of a third party client.
Once a project is deemed feasible by Dickinson, Shaw and his colleague, Vice President Taryn Warren, Shaw assembles a development team. Based on past performance and requirements of the project, Shaw recommends architects, engineers and contractors. Is it the right team for the specific project? Shaw often helps draft contracts and handles negotiations.
"Once we have our team and financing in place, we begin the permitting process – often an art form in itself," says Shaw. "You need a strategy for pursuing required entitlements. This might entail neighborhood meetings, visits to abutters, and hearings with local boards, elected officials and other stakeholders. You must make the project acceptable to all parties."
Once permits are approved, the developer can put shovels in the ground. "Through ongoing communication and regular contractor meetings, often wearing a hard hat, I coordinate activities of engineers, architects and contractors," says Shaw. "During this time, we examine construction documents, oversee bidding and selection of contractors, and administer construction, including budgets, schedules and tenant needs. Controlling costs is critical. There are often long days and sleepless nights. Later, once the project is complete, we are asked to handle property management and provide technical assistance to owners and tenants," he notes.
Last year, Shaw oversaw the finishing touches on one of the most complex projects of its type in the country – and Dickinson's largest project to date: The award-winning $90 million, 475,000 square foot Crossing at Walkers Brook retail center in Reading, built on a 33-acre former town landfill. Shaw was involved in the project for almost seven years. Between 2003 -2005, he had day-to-day responsibility for almost every detail in this project, among the largest landfill closure and redevelopment projects in New England history.
Shaw says it's a testament to the Dickinson team that their team overcame significant environmental, technical and political obstacles to complete the project on time and on schedule. He says it took a combination of perseverance, experience and intelligence. Shaw estimates the project created 1,000 construction jobs and almost 1,000 full and part-time jobs, and provides significant tax revenue to the town.
A former non-productive liability is now a first-class destination center -- a welcoming gateway to the town. In April 2006, the project, won for team engineers Haley & Aldrich the prestigious American Council of Engineering Companies of Massachusetts (ACEC/MA) 2006 Grand Conceptor Award. In June, the project received Honorable Mention from the national organization.
Since 1985, Shaw has helped to transform Mark Dickinson's visions to reality, whether office, retail, hotel, or industrial. He managed ground-up construction of large first-class office buildings in Braintree He oversaw the upgrade, expansion and repositioning of the 175,000 square-foot Merrimac Plaza in Methuen, and the transformation of the100 year-old Willard School in Quincy into a premier office address while preserving its 19th century character. Other notable projects include supermarkets, two Staybridge Suites Hotels, two Home Depots, and two office buildings in Orlando, Florida, among others.
"I believe that development, done right, can enhance the environment," Shaw says. "There are few jobs that have as much variety, and where you work with so many top professionals from various disciplines. The best part is seeing the finished product – when the plan finally comes together. I like the way we create jobs, and improve the landscape and the environment. With every project, when you go back after it's finished, you remember the headaches and the rewarding experiences, and the good people you worked with. You appreciate the details of what it takes to put it all together." (For more information, visit www.DickinsonDev.com or call 617-770-1955).
(Stanley Hurwitz is a Public Relations and Marketing Consultant based in Stoughton, Mass. Contact: stanhurw@comcast.net)
ABOUT DICKINSON DEVELOPMENT CORP.
Founded in 1980, Dickinson Development is a full-service commercial real estate development and project management consulting firm based in Quincy, Mass.