< back to other Newsroom articles

By Stanley Hurwitz
May 2006
Dickinson Development Team Guest Speakers for CCIM New England Chapter
$90 Million Retail Center on Former Landfill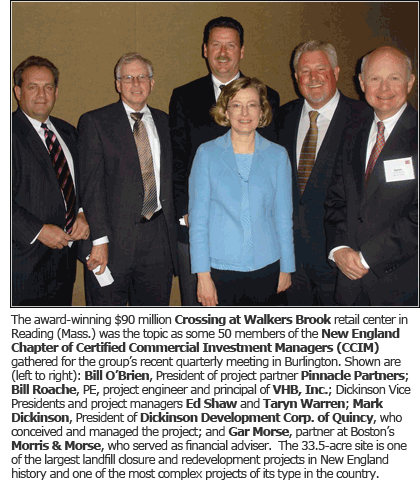 QUINCY, MASS. (May 2006) — The award-winning $90 million Crossing at Walkers Brook retail center in Reading (Mass.) was the topic as some 50 members of the New England Chapter of Certified Commercial Investment Managers (CCIM) gathered for the groupís recent quarterly meeting.
The program featured an overview of the 7-year project history, obstacles, solutions and outcome. The 33.5-acre site is one of the largest landfill closure and redevelopment projects in New England history and one of the most complex projects of its type in the country.
Speakers were Mark Dickinson, President of Dickinson Development Corp. of Quincy, who conceived and managed the project; Bill Roache, PE, a principal at VHB, Inc., site, civil and traffic engineers; and Gar Morse, partner at Boston's Morris & Morse, who served as financial adviser. Day-to-day management of the project was overseen by Dickinson Vice Presidents Taryn Warren and Ed Shaw.
Presenters described how, because the site had been a landfill, complex engineering and environmental issued had to be addressed. A public-private partnership and cooperation among stakeholders and neighbors kept the project on time and on schedule. The center is anchored by Home Depot and Jordan's Furniture and is home to eight other blue-ribbon tenants. Completed in the summer of 2005, on-site businesses provide some 1,000 full and part-time jobs and bring significant property taxes to the town. In April 2006, the project won for engineers Haley & Aldrich the prestigious American Council of Engineering Companies of Massachusetts (ACEC/MA) 2006 Grand Conceptor Award.
Dickinson's development team also consisted of: project partner Pinnacle Partners; construction consultants Pinncon, Inc. and general contractor Suffolk Construction; architect Carter-Burgess; and additional engineering firms Haley & Aldrich and Dufresne-Henry.
CCIM N. E. Chapter President is John Miller of AEW Capital Management, and Vice President is Peter Tilden of Nordblom.
Founded in 1980, Dickinson Development Corporation has developed over three million square feet of office, retail and industrial space and hotels in New England and Florida. The company is seeking similar development opportunities in southern New England . (For more information, contact Ed Shaw or Mark Dickinson: 617-770-1955 or visit www.dickinsondev.com).